Retrospective Part II. Welcome to the second part of our journey around the world with DBpedia. This time we are taking you to Greece, Germany, to Australia and finally France.
Let the travels begin.
Welcome to Thessaloniki, Greece & ESWC
DBpedians from the Portuguese Chapter presented their research results during ESWC 2018 in Thessaloniki, Greece.  the team around Diego Moussalem developed a demo to extend MAG  to support Entity Linking in 40 different languages. A special focus was put on low-resources languages such as Ukrainian, Greek, Hungarian, Croatian, Portuguese, Japanese and Korean. The demo relies on online web services which allow for an easy access to (their) entity linking approaches. Furthermore, it can disambiguate against DBpedia and Wikidata.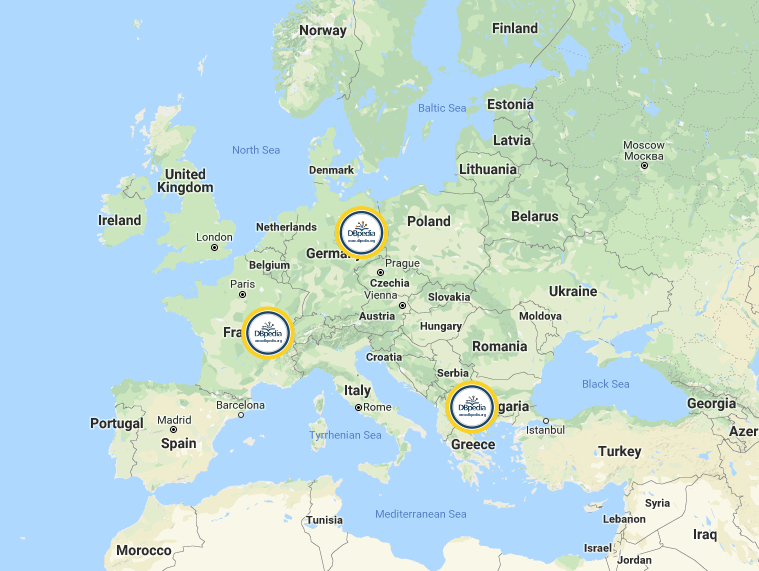 Currently, MAG is used in diverse projects and has been used largely by the Semantic Web community. Check the demo via http://bit.ly/2RWgQ2M. Further information about the development can be found in a research paper, available here. 
Welcome back to Leipzig Germany
With our new credo "connecting data is about linking people and organizations", halfway through 2018, we finalized our concept of the DBpedia Databus. This global DBpedia platform aims at sharing the efforts of OKG governance, collaboration, and curation to maximize societal value and develop a linked data economy.
With this new strategy, we wanted to meet some DBpedia enthusiasts of the German DBpedia Community. Fortunately, the LSWT (Leipzig Semantic Web Tag) 2018 hosted in Leipzig, home to the DBpedia Association proofed to be the right opportunity.  It was the perfect platform to exchange with researchers, industry and other organizations about current developments and future application of the DBpedia Databus. Apart from hosting a hands-on DBpedia workshop for newbies we also organized a well-received WebID -Tutorial. Finally,  the event gave us the opportunity to position the new DBpedia Databus as a global open knowledge network that aims at providing unified and global access to knowledge (graphs).
Welcome down under – Melbourne Australia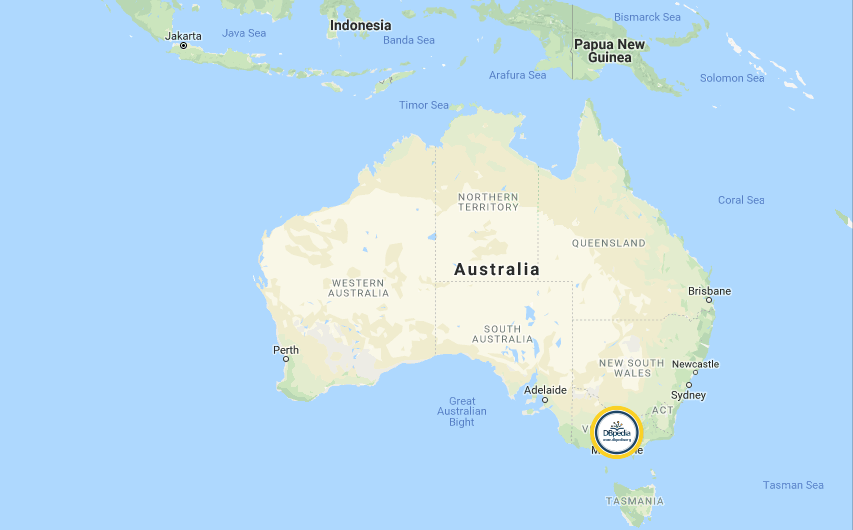 Further research results that rely on DBpedia were presented during ACL2018, in Melbourne, Australia, July 15th to 20th, 2018. The core of the research was DBpedia data, based on the WebNLG corpus, a challenge where participants automatically converted non-linguistic data from the Semantic Web into a textual format. Later on, the data was used to train a neural network model for generating referring expressions of a given entity. For example, if Jane Doe is a person's official name, the referring expression of that person would be "Jane", "Ms Doe", "J. Doe", or  "the blonde woman from the USA" etc.
If you want to dig deeper but missed ACL this year, the paper is available here.
Welcome to Lyon, France
In July the DBpedia Association travelled to France. With the organizational support of Thomas Riechert (HTWK, InfAI) and Inria, we finally met the French DBpedia Community in person and presented the DBpedia Databus. Additionally, we got to meet the French DBpedia Chapter, researchers and developers around Oscar Rodríguez Rocha and Catherine Faron Zucker.  They presented current research results revolving around an approach to automate the generation of educational quizzes from DBpedia. They wanted to provide a useful tool to be applied in the French educational system, that:
helps to test and evaluate the knowledge acquired by learners and…

supports lifelong learning on variou

s topics or subjects. 
The French DBpedia team followed a 4-step approach:
Quizzes are first formalized with Semantic Web standards: questions are represented as SPARQL queries and answers as RDF graphs.

Natural language questions, answers and distractors are generated from this formalization.

We defined different strategies to extract multiple choice questions, correct answers and distractors from DBpedia.

We defined a measure of the information content of the elements of an ontology, and of the set of questions contained in a quiz.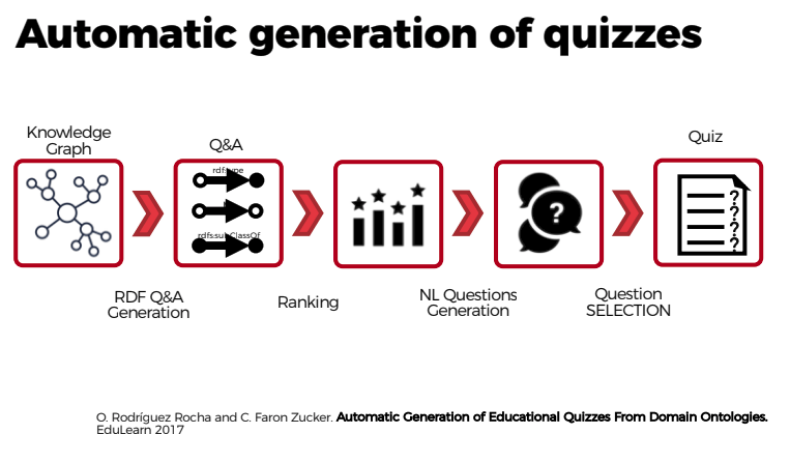 Oscar R. Rocha and Catherine F. Zucker also published a paper explaining the detailed approach to automatically generate quizzes from DBpedia according to official French educational standards. 
Thank you to all DBpedia enthusiasts that we met during our journey. A big thanks to
With this journey from Europe to Australia and back we provided you with insights into research based on DBpedia as well as a glimpse into the French DBpedia Chapter. In our final part of the journey coming up next week, we will take you to Vienna,  San Francisco and London.  In the meantime, stay tuned and visit our Twitter channel or subscribe to our DBpedia Newsletter.
Have a great week.
Yours DBpedia Association
Did you consider this information as helpful?