DBpedia Chapters – Challenge Accepted
The DBpedia community currently comprises more than 20 language chapters, ranging from  Basque, Japanese to Portuguese and Ukrainian. Managing such a variety of chapters is a huge challenge for the DBpedia Association because individual requirements are as diverse as the different languages the chapters represent. There are chapters that started out back in 2012 such as DBpediaNL. Others like the Catalan chapter are brand new and have different haves and needs.
So, in order to optimize chapter development, we aim to formalize an official DBpedia Chapter Consortium. It permits a close dialogue with the chapters in order to address all relevant matters regarding communication, organization as well as technical issues. We want to provide the community with the best basis to set up new chapters and to maintain or develop the existing ones.
Our main targets for this are to: 
improve general chapter organization,

unite all DBpedia

chapters

with central DBpedia,

promote better communication and understanding and,

create synergies for further developments and make easier the access to information about which is done by all DBpedia bodies
As a first step, we needed to collect information about the current state of things.  Hence, we conducted two surveys to collect the necessary information. One was directed at chapter leads and the other one at technical heads.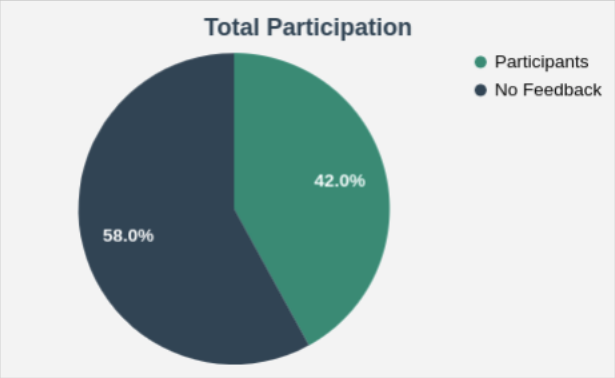 In this blog-post, we like to present you the results of the survey conducted with chapter leads.  It addressed matters of communication and organizational relevance. Unfortunately, only nine out of 21 chapters participated, so the respective outcome of the survey speaks only for roughly 42% of all DBpedia chapters.
Chapter-Survey  – Episode One
Most chapters have very little personnel committed to the work done for the chapter, due to different reasons. 66 % of the chapters have only one till four people being involved in the core work. Only one chapter has about ten people working on it.
Overall, the chapters use various marketing channels for promotion, visibility and outreach. The website as well as event participation, Twitter and Facebook are among the most favourite channels they use.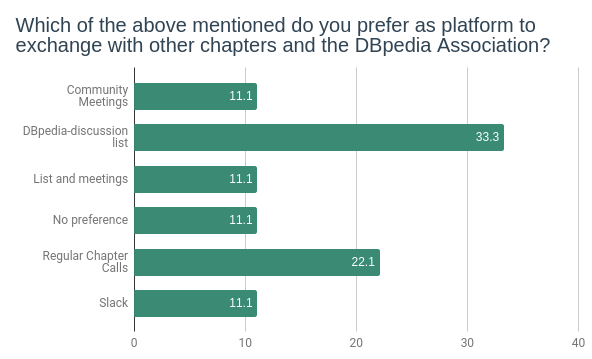 The following chart shows how chapters currently communicate organizational and communication issues in their respective chapter and to the DBpedia Association.
The second one explicit that ⅓ of the chapters favour an exchange among chapters and with the DBpedia Association via the discussion mailing list as well as regular chapter calls.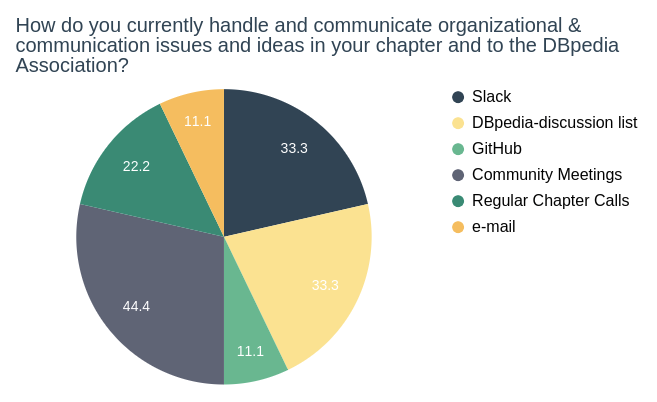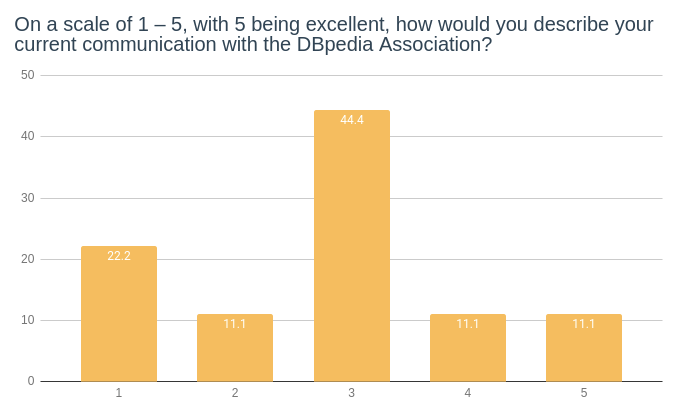 The survey results show that 66,6% of the chapters currently do not consider their current mode of communication efficient enough. They think that their communication with the DBpedia Association should improve.
As pointed out before, most chapters only have little personnel resources. It is no wonder that most of them need help to improve the work and impact of chapter results. The following chart shows the kind of support chapters require to improve their overall work, organization and communication. Most noteworthy, technical, marketing and organization support are hereby the top three aspects the chapters need help with.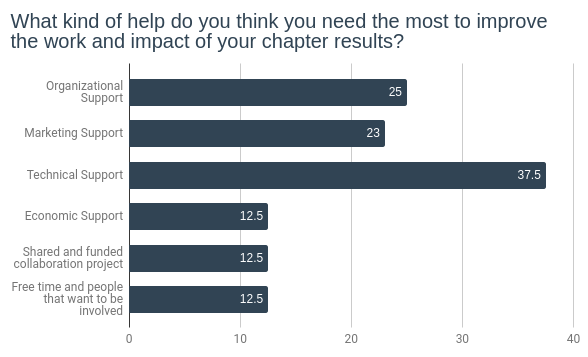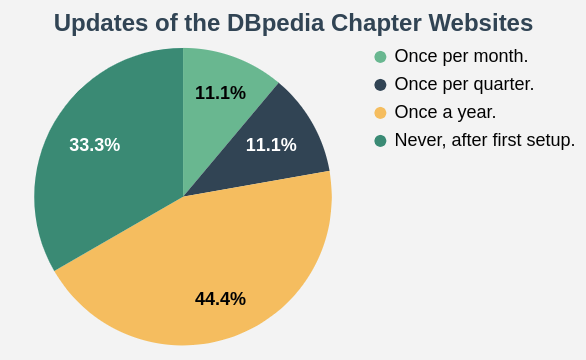 The good news is all of the chapters maintain a DBpedia Website. However, the frequency of updates varies among them. See the chart on the right.
Earlier this year, we announced that we like to align all chapter websites with the main DBpedia website. That includes a common structure and a corporate design, similar to the main one.  Above all, this is important for the overal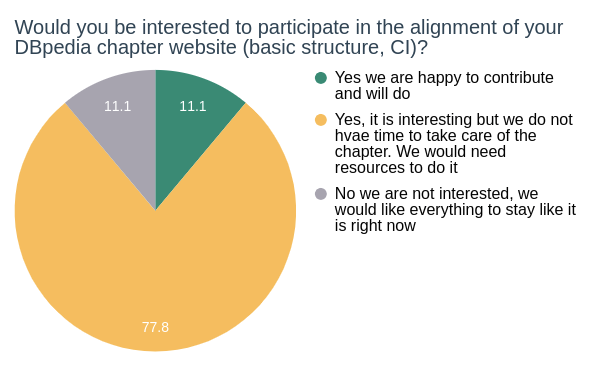 l image and recognition factor of DBpedia in the tech community. With respect to that, we inquired whether chapters would like to participate in an alignment of the websites or not.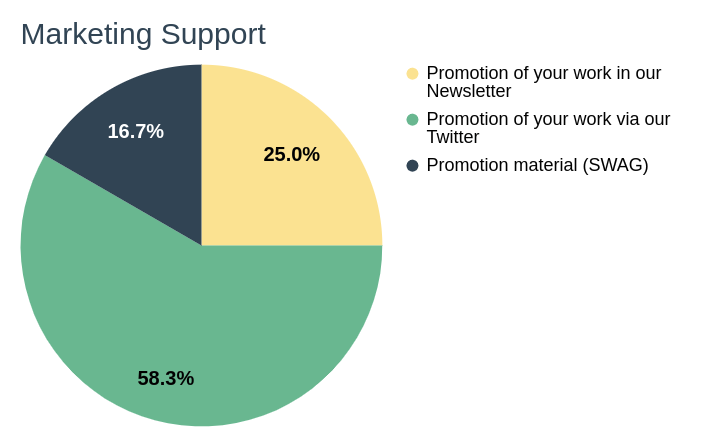 With respect to marketing support, the chapters require from the Association, more than 50% of the chapters like to be frequently promoted via the main DBpedia twitter channel.
Good news: just forward us your news or tag us with @dbpedia and we will share 'em.
Almost there.
Finally, we asked about chapters requirements to improve their work and, the impact of their chapters' results.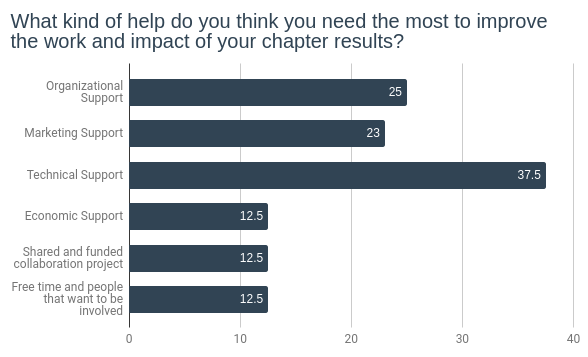 Bottom line
All in all, we are very grateful for your contribution. Those data will help us to develop a strategy to work towards the targets mentioned above. We will now use this data to conceptualize a little program to assist chapters in their organization and marketing endeavours. Furthermore, the information given will also help us to tackle the different issues that arose, implement the necessary support and improve chapter development and chapter visibility.
In episode two, we will delve into the results of the technical survey. Sit tight and follow us on Twitter, Facebook, LinkedIn or subscribe to our newsletter.
Finally, one last remark. If you want to promote news of your chapter or otherwise like to increase its visibility, you are always welcome to:
forward us the respective information to be promoted via our marketing channels 

use your own Twitter channel and tag your post with @dbpedia,  so we can retweet your news. 
always use #dbpediachapters
Looking forward to your news.
Yours
DBpedia Association
Did you consider this information as helpful?