With all the beta-testing, the evaluations of the community survey part I and part II and the preparations for the Semantics 2018 we lost almost sight of telling you about the final results of GSo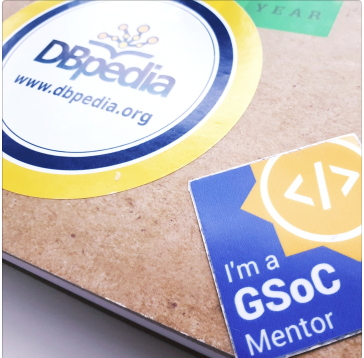 C 2018. Following we present you a short recap of this year's students and projects that made it to the finishing line of GSoC 2018.
Et Voilà
We started out with six students that committed to GSoC projects. However, in the course of the summer, some dropped out or did not pass the midterm evaluation. In the end, we had three finalists that made it through the program.
Meet Bharat Suri
… who worked on "Complex Embeddings for OOV Entities". The aim of this project was to enhance the DBpedia Knowledge Base by enabling the model to learn from the corpus and generate embeddings for different entities, such as classes, instances and properties.  His code is available in his GitHub repository. Tommaso Soru, Thiago Galery and Peng Xu supported Bharat throughout the summer as his DBpedia mentors.
Meet Victor Fernandez
.. who worked on a "Web application to detect incorrect mappings across DBpedia's in different languages". The aim of his project was to create a web application and API to aid in automatically detecting inaccurate DBpedia mappings. The mappings for each language are often not aligned, causing inconsistencies in the quality of the RDF generated. The final code of this project is available in Victor's repository on GitHub. He was mentored by Mariano Rico and Nandana Mihindukulasooriya.
Meet Aman Mehta
.. whose project aimed at building a model which allows users to query DBpedia directly using natural language without the need to have any previous experience in SPARQL. His task was to train a Sequence-2-Sequence Neural Network model to translate any Natural Language Query (NLQ) into the corresponding sentence encoding SPARQL query. See the results of this project in Aman's GitHub repository. Tommaso Soru and Ricardo Usbeck were his DBpedia mentors during the summer.
Finally, these projects will contribute to an overall development of DBpedia. We are very satisfied with the contributions and results our students produced.  Furthermore, we like to genuinely thank all students and mentors for their effort. We hope to be in touch and see a few faces again next year.
A special thanks goes out to all mentors and students whose projects did not make it through.
GSoC Mentor Summit
Now it is the mentors' turn to take part in this year GSoC mentor summit, October 12th till 14th. This year, Mariano Rico and Thiago Galery will represent DBpedia at the event. Their task is to engage in a vital discussion about this years program, about lessons learned, highlights and drawbacks they experienced during the summer. Hopefully, they return with new ideas from the exchange with mentors from other open source projects. In turn, we hope to improve our part of the program for students and mentors.
Sit tight, follow us on Twitter and we will update you about the event soon.
Yours DBpedia Association
Did you consider this information as helpful?