Exactly 3 weeks ago, the first Data Week Leipzig started on July 4th, 2022. Data Week was a week-long event in Leipzig focusing on digitization in heterogeneous areas of life as well as transparent, traceable and sustainable applications. Among many other presentations and formats in the area of digitalization and AI, DBpedia also made a great contribution to the event.
Following, we will give you a brief retrospective about DBpedia @ the LSWT 2022 as well as the first DBpedia Knowledge Engineering PhD Symposium.
DBpedia @ the LSWT 2022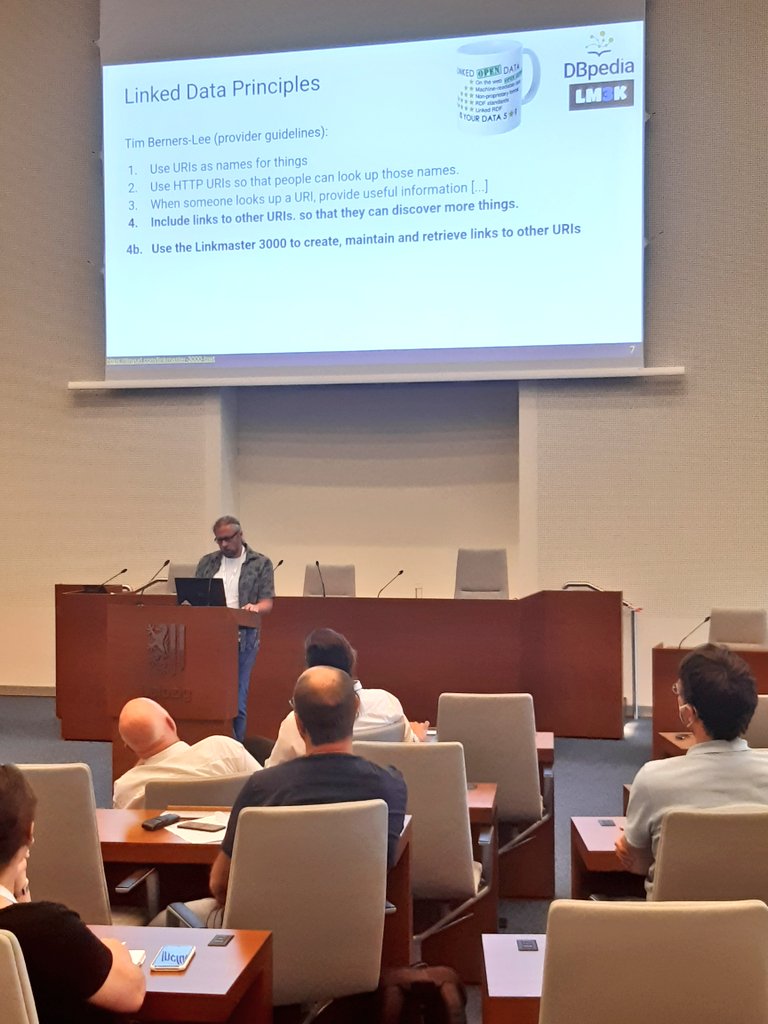 On Tuesday, 5th July, the Leipzig Semantic Web Day (LSWT) took place as part of the Data Week Leipzig. It was an opportunity for scientists, enterprises, and organizations to discuss topics in the field of Semantic Technology. These emphases are demonstrated in presentations by experts from industry and science.
As a part of the LSWT and the session "Data Acquisition and Data Sovereignty" Sebastian Hellmann (AKSW, InfAI/DBpedia) presented "Linkmaster 3000. If it's not linked, does it even exist?".
Later that day, Denis Streitmatter (AKSW, InfAI/DBpedia) gave his talk "Why we need Archivo" as part of the session "Collaboration and Ontologies".
1st DBpedia PhD Symposium
Wednesday, July 6th, was all about scientific exchange where junior and senior researchers establish relations and collaborations and exchange ideas. The goal of the event manifests a scientific community as a driver for DBpedia and Linked Data and expects synergies effects that will greatly improve scientific output by the involved community members.
To start the day, Sören Auer (TIB) opened the first PhD Symposium with words of welcome and by giving insights into his experience on "what makes a good PhD".
The first session started with presentations by Aleksandr Perevalov on "Multilingual Accessibility of Knowledge Graph Question Answering Systems" and Johannes Frey on "Towards FAIR Linked Data Integration".
After a short coffee break, session 2 started with Marvin Hofer speaking about "Multilingual Accessibility of Knowledge Graph Question Answering Systems". This was followed by the contribution of Fidan Limani "Bringing Research Artifacts (as closer) Together: Knowledge Graphs for Libraries".
Afternoon Session
The last Session of the day was started by Gollam Rabby and his topic "Machine Learning on Semantic Scientific Knowledge" followed by Mehdi Azarafza and his presentation about "Distributed Approaches for Knowledge Representation and Reasoning on Geospatial Data". Afterwards Mirza Mohtashim Alam was speaking about "Representation and Reinforcement Learning on Knowledge Graphs" and Paulo Ricardo Viviurka do Carmo closed the last session with his presentation on "Unsupervised Information Extraction from Academic Data Sources to Knowledge Graphs".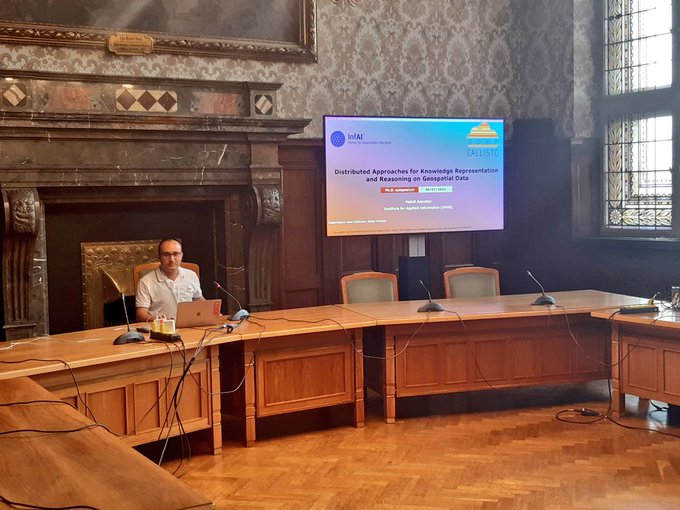 While the students held their presentations, they received feedback and on the other hand, the symposium participants gained insight 1) on how they structure and define their PhDs, 2) on what the current trends are and 3) on potential connecting a dedicated poster session where all PhD participants could bring their poster and discussed with the audience during the coffee breaks.
Closing
As the first DBpedia PhD Symposium came to an end, Sebastian Hellmann (AKSW, InfAI/DBpedia) and Milan Dojchinovski (DBpedia & CTU Prague) closed the meeting. Afterwards all participants were gathered for a city walking tour followed by the Living Lab Tour.
In case you missed the event, our presentations are available on the DBpeda event page. Further insights, feedback and photos about the event are available on Twitter (#DBpediaPhDSymposium hashtag).
Stay safe and check Twitter or LinkedIn. Furthermore, you can subscribe to our Newsletter for the latest news and information around DBpedia.
Julia & Emma
on behalf of the DBpedia Association
Did you consider this information as helpful?