Rencontre avec les français DBpédiens à Lyon
In cooperation with Thomas Riechert (HTWK/InfAI), the DBpedia Association organized our second DBpedia meetup this year, this time in Lyon. On July 3rd, 2018, we met the French DBpedia Community at the ENS in person and presented the vision of the new DBpedia Databus, an opportunity which simplifies the work with data.
First and foremost, we would like to thank the Institute for Applied Informatics for supporting our community and the LARHRA Laboratory as well as the ENS for hosting our community meetup. Special thanks go to Thomas Riechert and Vincent Alamercery (LARHRA Lyon) for organizing the event.
Opening Session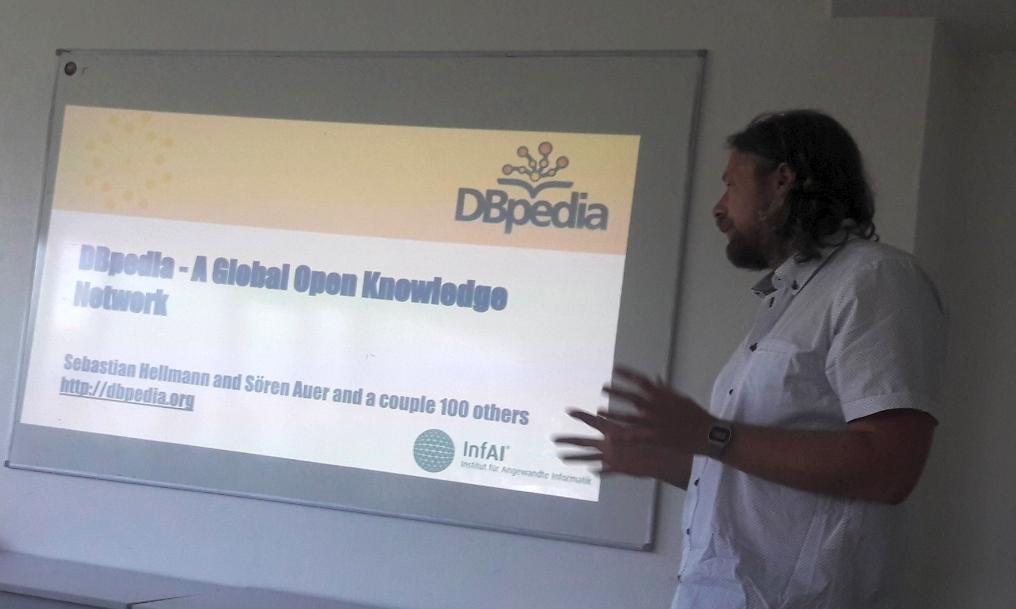 Sebastian Hellmann (AKSW/KILT) opened up the meetup in Lyon by introducing the DBpedia development strategy and the new DBpedia Databus to the French DBpedia community (slides). Afterwards, Elmahdi Korfed from INRIA presented new features and tools as results developed in  the French DBpedia chapter (slides):
In the following months, Elmahdi plans to work on the DBpedia historic live version and the DBpedia wiki commons. His research will be presented during our 12th DBpedia Community meeting on September 10th, in Vienna.
Following Elmahdi, Francesco Beretta presented LARHRA laboratory and its different research areas. In particular, he introduced the Data for History Consortium which is an international consortium founded in 2017 with the aim of improving geo-historical data interoperability in the semantic web.
Afternoon Track
The afternoon track started out with an inspiring presentation by Adam Sanchez from the University of Grenoble. He talked about 'RDFization of a relational database from medicine domain using Ontop' (slides) and introduced the Ontop mappings. Afterwards, Oscar Rodríguez Rocha (University of Côte d'Azur) showcased the application 'Automatic Generation Educational Quizzes' from DBpedia (slides) and explained how the automatic generation of quizzes works based on the game Les Incollables.
The meeting concluded with a dynamic discussion on the DBpedia Databus and potential collaborations between the DBpedia Association and the French DBpedia Chapter.
All slides and presentations are available on our Website. You can find more feedback and photos about the event on Twitter via #DBpediaLyon.
You still can't get enough of DBpedia?
Don't worry, we already have another meeting of the DBpedia community in the pipeline. Our 12th DBpedia Community meeting is scheduled for September 10th and preparations on the program are already in full swing. Our DBpedia Day will kick-off this year's edition of SEMANTiCS 2018, hosted at TU Vienna and brings the European DBpedia community together.

You want to contribute? Please submit your proposal and be a part of our amazing program. Register here and meet us and other DBpedia enthusiasts in Vienna. We are looking forward to your contribution.  
For latest news and updates check Twitter, Facebook and our Website or subscribe to our newsletter.
See you soon!
Yours,
DBpedia Association
Did you consider this information as helpful?