After an online SEMANTiCs conference in 2020, we thought it is time to meet you in person again. So, we travelled to the Netherlands to organize this year's DBpedia Day on September 9, 2021 in Amsterdam.
First and foremost, we would like to thank the Institute for Applied Informatics for supporting our community and many thanks to the VU University Amsterdam and the SEMANTiCS organisation team for hosting this year's DBpedia Day.
Opening of the DBpedia Day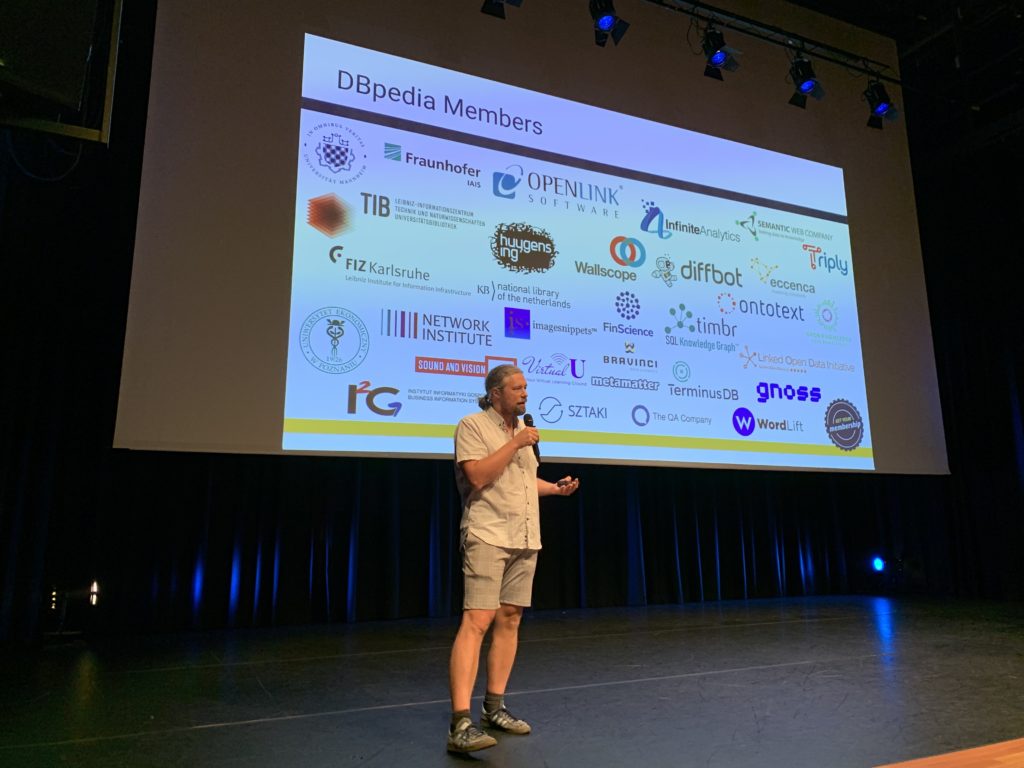 Our CEO, Sebastian Hellmann, opened the DBpedia Day with an update about the DBpedia Databus and DBpedia members. He presented the huge and diverse network DBpedia has built up in the last 13 years. Afterwards, Maria-Esther Vidal, TIB, completed the opening session with her keynote "Enhancing Linked Data Trustability and Transparency through Knowledge-driven Data Ecosystems". If you would like to get more insights, please find both slide decks here.
Member Presentation Session
Dennis Diefenbach, The QA Company, started the DBpedia member presentation session with his presentation "Question Answering over DBpedia". Shortly after, Luke Feeney and Gavin Mendel-Gleason, TerminusDB, promoted the implementation of a cloud data mesh with a Knowledge Graph. Next, Russa Biswas, FIZ, talked about "Entity Type Prediction in DBpedia using Neural Networks". Followed by another remote presentation by Ricardo Alonso Maturana and Susana López, Gnoss, presenting the "Didactalia Encyclopaedia". They demonstrated a chronological, compared and contextual perspective of enriched and linked entities.
Afterwards, Antonia Donvito from FinScience explained how they use DBpedia Spotlight-a tool for automatically annotating mentions of DBpedia resources in text, providing a solution for linking unstructured information sources to the Linked Open Data cloud through DBpedia. Kathrin Dentler, Triply, talked about "Bringing linked data to the domain expert with TriplyDB data stories". Closing the member session, Margaret Warren, ImageSnippets, presented "Anchoring Images to Meaning Using DBpedia" live via Zoom from Florida, U.S.
For further details of the presentations follow the links to the slides.
Ontology and NLP Sessions at the DBpedia Day
As a regular part of the DBpedia Community Meeting, we had two parallel sessions in the afternoon where DBpedians discussed most recent challenges in the context of DBpedia. Participants interested in NLP-related topics joined the NLP & DBpedia session. Milan Dojchinovski (InfAI, CTU Prague) chaired this session with four very stimulating talks. Hereafter you will find the presentations given during this session:
At the same time, the DBpedia Ontology Session provided a platform for the community to discuss implementable criteria to evaluate ontologies, especially the ontology archive DBpedia Archivo. Hereafter you will find all presentations given during this session:
Diversity of DBpedia – The DBpedia Language Chapters
This year's DBpedia Day also covered a special chapter session, chaired by Enno Meijers, KB and Dutch DBpedia Language Chapter. Two speakers presented the latest technical and organizational developments of their respective chapters. Furthermore, Johannes Frey showcased the Dutch National Knowledge Graph (DNKG). During the DBpedia Autumn Hackathon 2020 the DBpedia team worked together with a group of Dutch organizations to explore the feasibility of building a DNKG. The knowledge graph was built from a number of authoritative datasets using the DBpedia Databus approach.
Following, you find a list of all presentations of this session: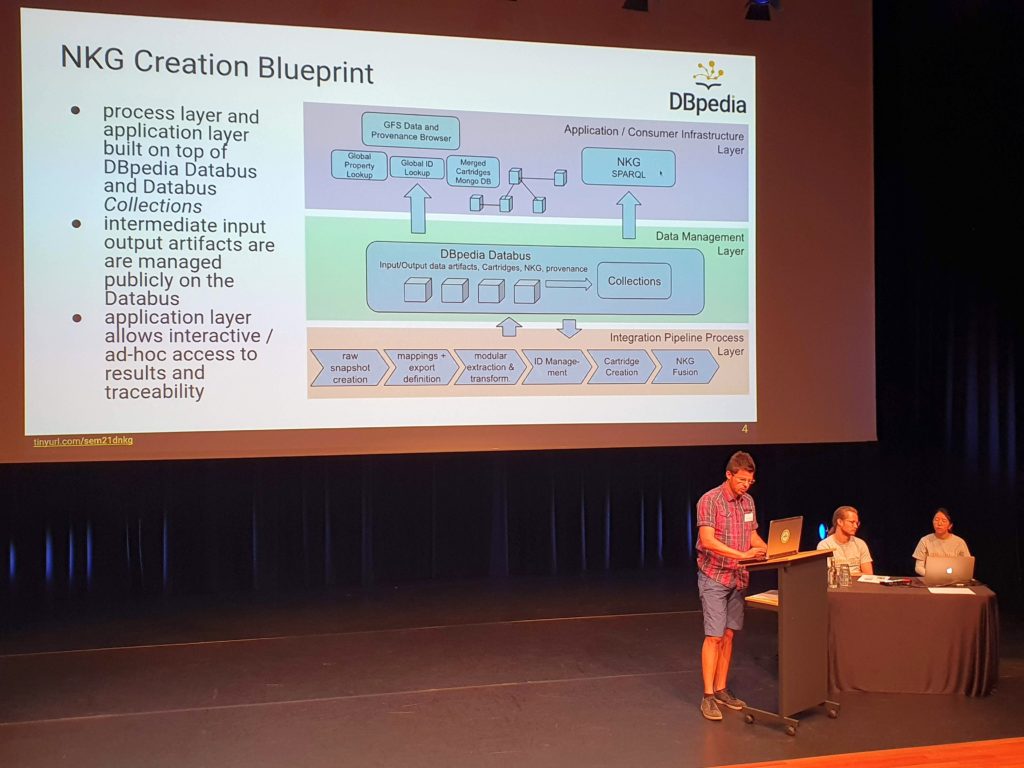 In this DBpedia chapter session we had a closer look at the results of the DNKG pilot. Furthermore, two DBpedia language chapters (Spanish and Hungarian) presented current developments and research results. Closing this session, Enno Meijers led a discussion about the opportunities of the DBpedia Databus for creating local chapters and building (national) knowledge graphs in general.
Summing up, the DBpedia Day at the SEMANTiCS conference brought together more than 100 DBpedia enthusiasts from Europe who engaged in vital discussions about Linked Data, the DBpedia archivo as well as DBpedia use cases and services.
In case you missed the event, all slides are also available on our event page. Further insights, feedback and photos about the event are available on Twitter via #DBpediaDay.
We are now looking forward to more DBpedia meetings in the next year. DBpedia will be part of the Connected Data World taking place online on December 1–3, 2021. We will organize a masterclass.
Stay safe and check Twitter or LinkedIn. Furthermore, you can subscribe to our Newsletter for the latest news and information around DBpedia.
Julia
on behalf of the DBpedia Association
Did you consider this information as helpful?