Artificial Intelligence (AI) is currently the central subject of the just announced 'Year of Science'  by the Federal German Ministry. In recent years, new approaches were explored on how to facilitate AI, new mindsets were established and new tools were developed, new technologies implemented. AI is THE key technology of the 21st century. Together with Machine Learning (ML), it transforms society faster than ever before and, will lead humankind to its digital future.
In this digital transformation era, success will be based on using analytics to discover the insights locked in the massive volume of data being generated today. Success with AI and ML depends on having the right infrastructure to process the data.[1]
The Value of Data Governance
One key element to facilitate ML and AI for the digital future of Europe, are 'decentralized semantic data flows', as stated by Sören Auer, a founding member of DBpedia and current director at TIB, during a meeting about the digital future in Germany at the Bundestag. He further commented that major AI breakthroughs were indeed facilitated by easily accessible datasets, whereas the Algorithms used were comparatively old.
In conclusion, Auer reasons that the actual value lies in data governance. Infact, in order to guarantee progress in  AI, the development of a common and transparent understanding of data is necessary. [2]
DBpedia Databus – Digital Factory Platform
The DBpedia Databus  – our digital factory Platform –  is one of many drivers that will help to build the much-needed data infrastructure for ML and AI to prosper.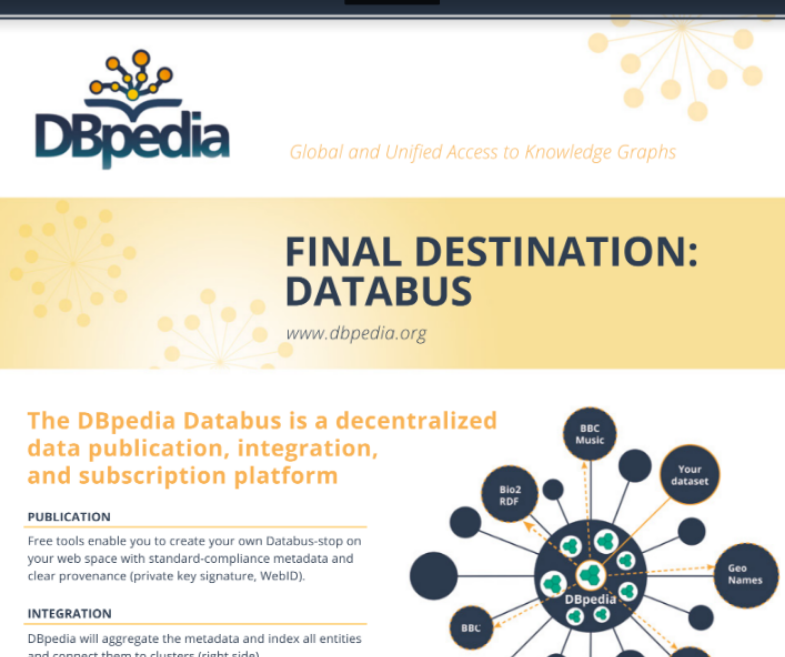 With the DBpedia Databus, we create a hub that facilitates a 'networked data-economy' revolving around the publication of data. Upholding the motto, Unified and Global Access to Knowledge, the databus facilitates exchanging, curating and accessing data between multiple stakeholders  – always, anywhere. Publishing data on the Databus means connecting and comparing (your) data to the network. Check our current DBpedia releases via http://downloads.dbpedia.org/repo/dev/.
DBpediaDay – & AI for Smart Agriculture
Furthermore, you can learn about the DBpedia Databus during our 13th DBpedia Community meeting, co-located with LDK conference,  in Leipzig, May 2019. Additionally, as a special treat for you, we also offer an AI side-event on May 23rd, 2019.
May we present you the thinktank and hackathon  – "Artificial Intelligence for Smart Agriculture". The goal of this event is to develop new ideas and small tools which can demonstrate the use of AI in the agricultural domain or the use of AI for a sustainable bio-economy. In that regard, a special focus will be on the use and the impact of linked data for AI components. 
In short, the two-part event, co-located with LSWT & DBpediaDay, comprises workshops, on-site team hacking as well as presentations of results. The activity is supported by the projects DataBio and Bridge2Era as well as CIAOTECH/PNO. All participating teams are invited to join and present their projects. Further Information are available here. Please submit your ideas and projects here.  
Finally, the DBpedia Association is looking forward to meeting you in Leipzig, home of our head office. Pay us a visit!
____
Resources:
[1] Zeus Kerravala; The Success of ARTIFICIAL INTELLIGENCE AND MACHINE LEARNING Requires an Architectural Approach to Infrastructure. ZK Research: A Division of Kerravala Consulting © 2018 ZK Research, available via http://bit.ly/2UwTJRo
[2] Sören Auer; Statement at the Bundestag during a meeting in AI, Summary is available via https://www.tib.eu/de/service/aktuelles/detail/tib-direktor-als-experte-zu-kuenstlicher-intelligenz-ki-im-deutschen-bundestag/
Did you consider this information as helpful?