After our meetups in Poland and France last year, we delighted the Czech DBpedia community with a DBpedia meetup. It was co-located with the XML Prague conference on February 7th, 2019.
First and foremost, we would like to thank Jirka Kosek (University of Economics, Prague), Milan Dojchinovski (AKSW/KILT, Czech Technical University in Prague), Tomáš Kliegr (KIZI/University of Economics, Prague) and, the XML Prague conference for co-hosting and support the event.
Opening the DBpedia community meetup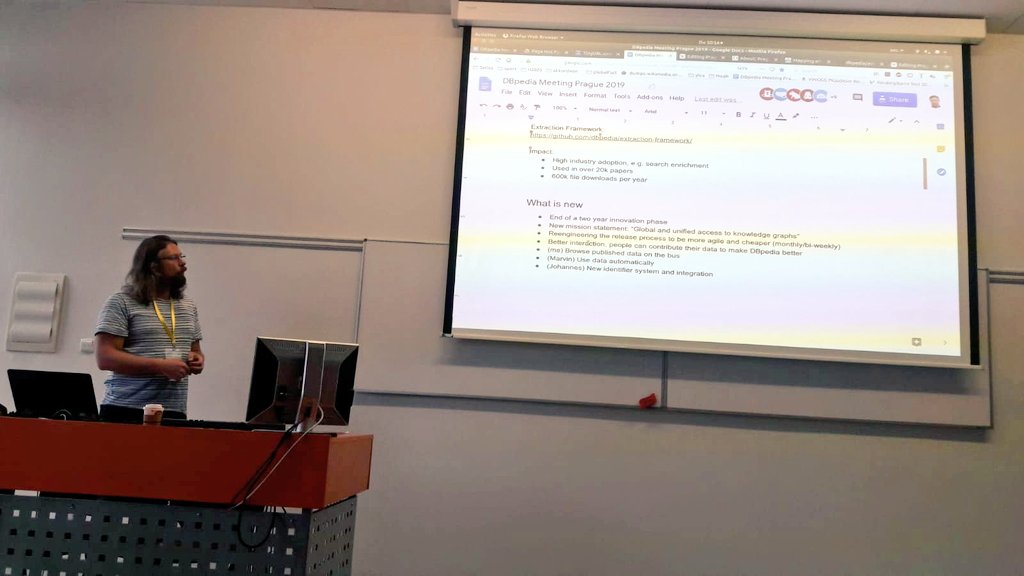 The Czech DBpedia community and the DBpedia Databus were in the focus of this meetup. Therefore, we invited local data scientists as well as DBpedia enthusiasts to discuss the state-of-the-art of the DBpedia databus. Sebastian Hellmann (AKSW/KILT) opened the meeting with an introduction to DBpedia and the DBpedia Databus. Following, Marvin Hofer explained how to use the DBpedia databus in combination with the Docker technology and, Johannes Frey (AKSW/KILT) presented the methods behind the DBpedia's Data Fusion and Global ID Management.
Showcase Session
Marek Dudáš (KIZI/UEP) started the DBpedia Showcase Session with a presentation on "Concept Maps with the help of DBpedia", where he showed the audience how to create a "concept map" with the ContextMinds application. Furthermore, Tomáš Kliegr (KIZI/UEP) presented "Explainable Machine Learning and Knowledge Graphs". He explained his contribution to a rule-based classifier for business use cases. Two other showcases followed: Václav Zeman (KIZI/UEP), who presented "RdfRules: Rule Mining from DBpedia" and Denis Streitmatter (AKSW/KILT), who demonstrated the "DBpedia API".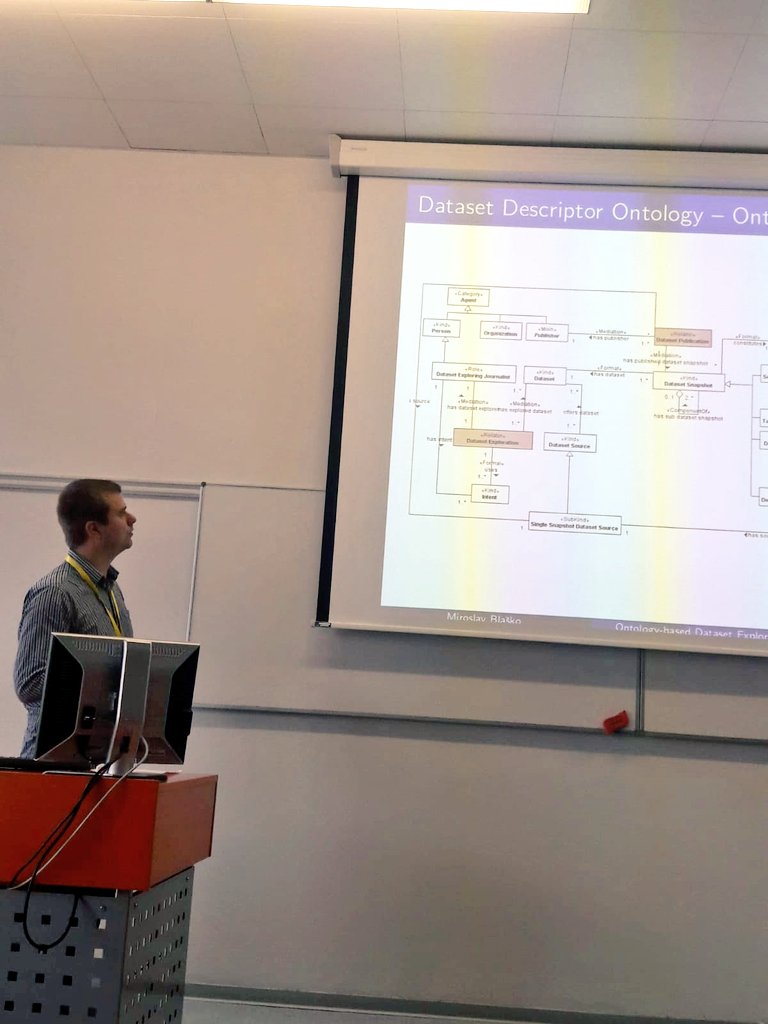 Closing this Session, Miroslav Blasko (CTU, Prague) gave a presentation on "Ontology-based Dataset Exploration". He explained a taxonomy developed for dataset description. Additionally, he presented several use cases that have the main goal of improving content-based descriptors.
Summing up, the DBpedia meetup in Prague brought together more than 50 DBpedia enthusiasts from all over Europe. They engaged in vital discussions about Linked Data, the DBpedia databus, as well as DBpedia use cases and services.
In case you missed the event, all slides and presentations are available on our website. Further insights  feedback, and photos about the event can be found on Twitter via #DBpediaPrague.
We are currently looking forward to the next DBpedia Community Meeting, on May 23rd, 2019 in Leipzig, Germany. This meeting is co-located with the Language, Data and Knowledge (LDK) conference. Stay tuned and check Twitter, Facebook and the website or subscribe to our newsletter for the latest news and updates.
Your DBpedia Association
Did you consider this information as helpful?