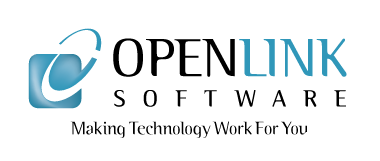 OpenLink Software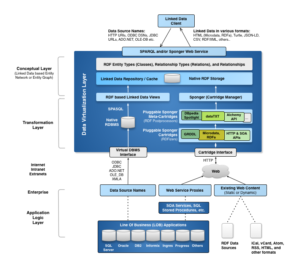 Virtuoso Universal Server (http://virtuoso.openlinksw.com) is a Data Virtualization platform, enabling fast and flexible harmonization of disparate data that increases agility for individuals and enterprises alike. Its Data Virtualization capability enables the construction and deployment of Knowledge Graphs atop existing data exposed by APIs such as HTTP, ODBC, JDBC, ADO.NET, OLE DB, XMLA, and many service-specific APIs (e.g., LinkedIn, Crunchbase, Twitter, Facebook, etc.).
Built-in reasoning and inference functionality makes artificial intelligence, machine-learning, data lineage, and data governance an integral part of its Data Virtualization functionality, facilitating the construction of a modern Knowledge Graph for each business domain of interest (e.g., Corporate, Department, Workgroup, Project, etc.).
Knowledge Graphs created by the Virtuoso platform manifest as a secure Semantic Web of Linked Data where Attribute-based Access Control (ABAC) provides the basis for intelligent Data Access Policies that scale across the enterprise and hybrid clouds.
As demonstrated by its platform dominance in the massive Linked Open Data (LOD) Cloud – the world's largest Knowledge Graph – Virtuoso's functionality isn't challenged by performance or scalability.
DBpedia, the kernel that originally seeded the LOD Cloud, is a live instance of Virtuoso offering 24/7 access to all users, anywhere in the world.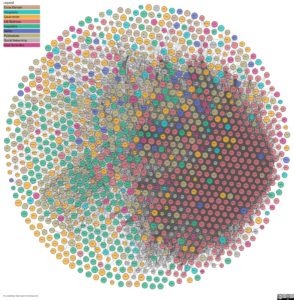 Key benefits of this include:
Hyperlink-based Super Keys identify subject-matter principals referenced in Wikipedia documents
High-Performance Web Query Service enables delivery of SPARQL queries over HTTP, where solutions are returned using a variety of document types (HTML, CSV, JSON, XML, RDF-Turtle, and many others)
Scalability handles any kind of ad-hoc query while enforcing a practical "fair use" policy, enabled by a unique and innovative "Anytime Query" feature.
The LOD Cloud Cache, another Virtuoso instance, provides an even larger and more challenging instance that offers access to a live Knowledge Graph comprising more than 40 Billion entity relationships deployed in line with Linked Data principles.
DBpedia Architecture Diagram: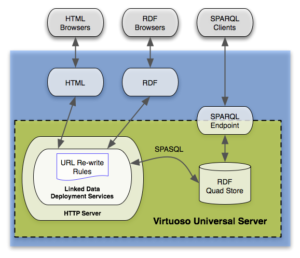 The DBpedia Database hosted on the live service at https://dbpedia.org/sparql is also available as prebuilt Virtuoso Amazon EC2 AMI instance (http://vos.openlinksw.com/owiki/wiki/VOS/VirtEC2AMIDBpediaInstall) in the Cloud, enable users to spin up an instance of DBpedia for there own usage in minutes.
Online tool: https://dbpedia.org/sparql
Contact Person
Kingsley Idehen
E-Mail:
support@openlinksw.com
URL:
https://www.openlinksw.com/