timbr DBpedia – SQL Semantic Knowledge Platform
timbr-DBpedia is a unique version of the timbr SQL semantic knowledge platform that integrates the ontology of DBpedia's latest version, timbr's ontology explorer/visualizer and timbr's SQL query service, to provide users with SQL access to DBpedia knowledge and allows seamless integration with data warehouses and data lakes.
timbr is the SQL knowledge platform that implements Semantic Web principles to provide knowledge graph functionality in SQL. The platform enables conceptual modeling of data as connected, context-enriched concepts with reasoning and graph traversal capabilities and queryable in standard SQL, to represent knowledge in data warehouses and data lakes.
timbr extends SQL with inheritance and inference capabilities. The platform provides meaningful use of semantics, accessible in SQL as a natural solution that implements the Semantic Web with reasoners, ontologies and rule engines: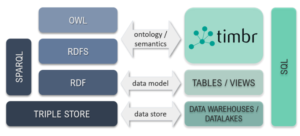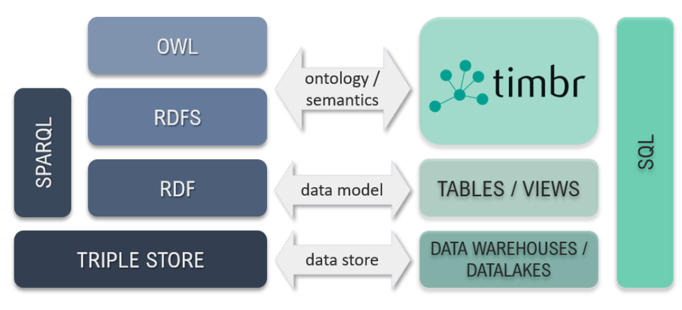 timbr offers powerful data exploration, ontology modeling and visualization capabilities, natively accessible in Apache Spark, Python, R and SQL to empower data scientists perform complex analytics and generate sophisticated ML algorithms.
Complex queries are reduced in size by as much as 90% without need to learn new languages. Its JDBC interface provides seamless integration with the most popular business intelligence solutions to make complex analytics accessible to analysts and domain experts across the organization.
The platform is available as SaaS or licensed for on-premises installation.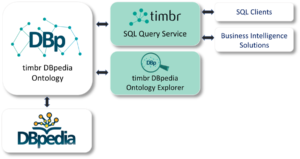 * timbr DBpedia SQL query service enables access to DBpedia's ontology and data via standard SQL.
* timbr DBpedia ontology explorer provides visualization of the DBpedia ontology.
Contact Person
Tzvi Weitzner
E-Mail:
Tzvi@timbr.ai
URL:
https://www.timbr.ai